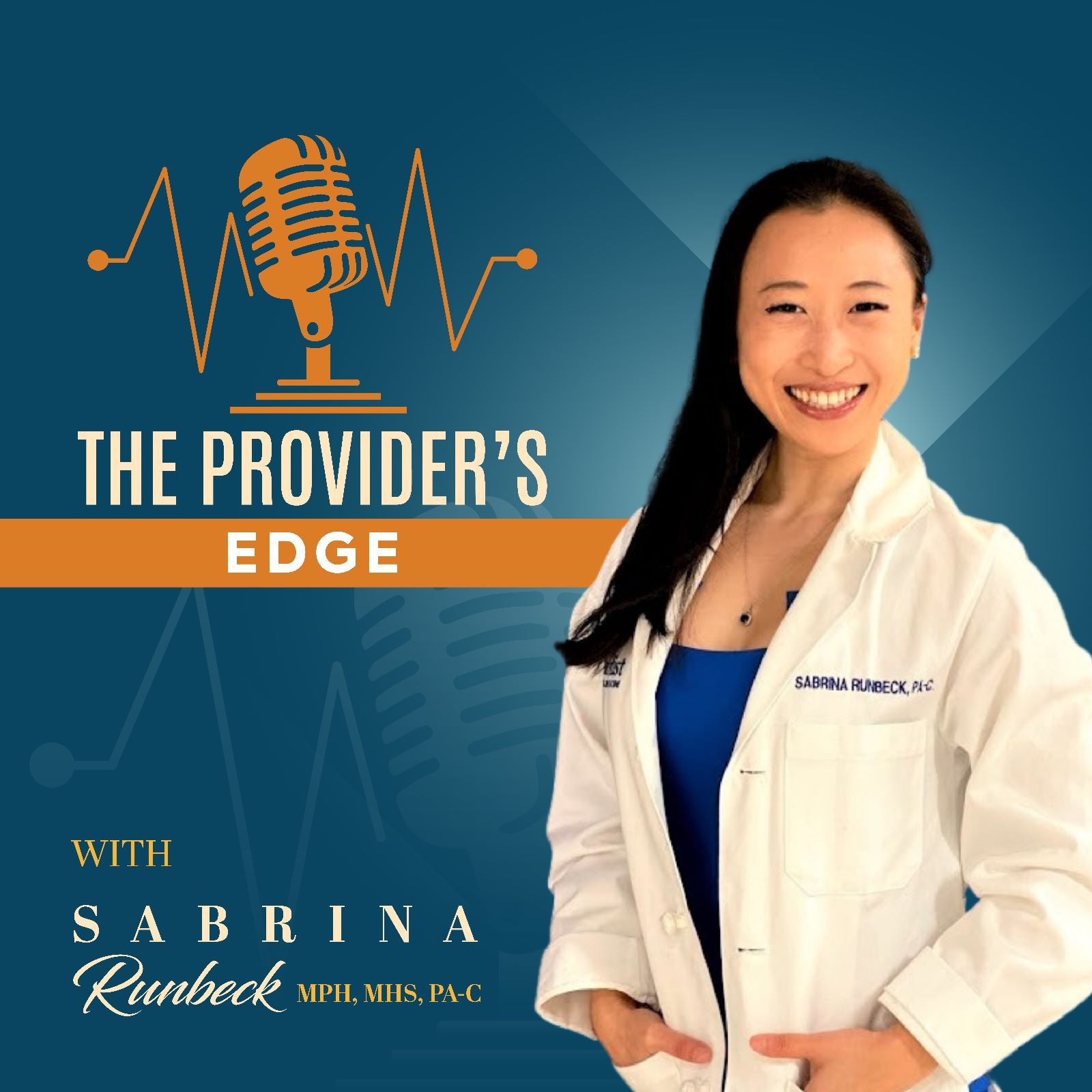 A Tech Advancement That Better Serves Patients
The tables have turned, and I'm in the hot seat now! 
I was honored to be invited by HITLAB to be interviewed on their podcast series "Women Health Tech Wednesdays".
HITLAB believes technology and health can work together to improve the quality of health delivery and healthcare worldwide.
They use rigorous research and evidence-based methods to identify the best digital health solutions for each of our partners.
Join me on this week's episode of The Provider's Edge podcast, as I share my own journey and experiences with burnout, how I flipped it around for the better to build a business that has catapulted me to where I'm at today-MRG and SmartCare 360 and how they are improving patient satisfaction and outcomes. 
Have there been any side paths or detours off your main career path that you never thought you would go down but are sure glad you did? Having the privilege of sharing what I know and have experienced with others on different podcasts has been one of those amazing detours from my main career that I am so thankful for and humbled by. 
Sometimes detours can lead to amazing things. It's like taking a path you never thought you'd go down. When someone talks about their experiences and knowledge on podcasts, it can be an unexpected but great experience. It's important to take chances and try new things even if they seem hard or scary at first.
A while ago I was invited by HITLAB to be interviewed by Nina Joshi for their Women's Health Tech Wednesdays podcast series. HITLAB is a global organization for health tech validation and leadership. To be recognized for being an influential woman in health tech is a deep honor, but it's even more of an honor to be able to share my journey and all about MRG and SmartCare 360 with an entirely new audience.
Health technology, such as artificial intelligence (AI) and machine learning (ML), are becoming increasingly important in the healthcare industry. AI and ML allow for tasks to be completed faster and more accurately than ever before. For example, AI can be used to detect anomalies in medical images, diagnose conditions with greater precision, and automate administrative tasks like patient registration.
I will preface by saying that I usually don't share about myself too much, since I thrive on helping other healthcare leaders realize their own full potential and build up successful businesses, but I fully believe my story has led me to where I am now and that if it can help even one person in their own journey, then it's worth telling. 
I understand the importance of helping healthcare leaders build successful businesses and reach their full potential. To this end, I have developed a comprehensive approach to healthcare leadership that focuses on both professional development and personal growth. This approach includes cultivating relationships with other professionals in the healthcare field, understanding current trends in healthcare and staying informed of changes in the industry.
I grew up as an only child in a very traditional Asian family. The path of my future from the moment I was born was to look like this: be a good girl, get good grades, go to a good school, marry, and get a great job. If I achieved all that, then I would be successful. To others, if I followed that path, only then could I find true joy. 
I went on to graduate with two bachelor's degrees and two master's degrees and eventually went into medicine. I was so excited to enter this part of my life. I didn't want to do anything else besides heart and lung surgery. 
Some years in, working 80+ hours a week started to make me sick a lot. It just wasn't sustainable for anybody. There was one day that was a huge turning point for me. I was so sick during surgery that the nurses had to slip cough drops into my mouth during the hours-long process. Something needed to change. 
I felt like I couldn't leave because it would be too difficult to train someone new and staff turnover was already so high. I felt like the hospital and my patients needed me to stay. But in the end, I had to choose myself. I learned I was 100% responsible for myself, and only I could bring myself out of the situation I was in, no one else.
I also learned that although I was helping people, I was doing so only at the cost of myself and my own health. That was all starting to go downhill, so how well was I truly helping others at that point? Being busy and working yourself to the bone at the expense of your own sanity has become a badge of honor, not just in healthcare, but in a lot of other career fields too. Ultimately, the biggest lesson I learned was that busyness does not equal productivity. Productivity equals efficiency. Efficiency equals impact. 
Productivity isn't just about doing more work, it's about getting more done with less effort. To truly be productive, you must focus on being more efficient in your tasks and activities. This means utilizing tools and technologies to streamline the process, using time management techniques to create a realistic plan of action, and making sure that the tasks are of a high standard.
I knew I had to get back to my roots, so I dug deep and did just that. Before I ventured into medicine, I was in neuroscience and public health. I still had a true passion for both of those and honed my concentrations to be performance sciences, self-efficacy, self-care, and stress management. 
I dove deep into discovering how to maximize and optimize my time and energy through performance sciences and cognitive behavior. I really became passionate and knowledgeable about how to use tools and technology to make the most of our time and achieve peak performance in our careers and lives. I realized I could have the best of both worlds and combine my calling for medicine and performance science which led me to work closely with digital technology companies. All of this is what ultimately led me to where I am today with MRG and SmartCare 360. 
Performance sciences and cognitive behavior involve a variety of strategies and techniques that can be used to help individuals increase their productivity and efficiency, as well as enhance their overall well-being. Performance science focuses on developing an individual's ability to optimally manage their energy levels, stress response, and work performance by using evidence-based methods such as goal setting.
MRG (Medical Resource Group) is a health tech company that has a main mission of providing solutions to the question, "How do we better serve our patients?" MRG continuously answers this guiding question, as we are always striving to become more patient-centered and design digital solutions that improve the patient experience and outcome.
As the Executive Director of People & Clinical Outcomes at MRG, my job is to constantly assess how to make our systems and processes more streamlined and efficient for the patient, and educate and work with the leaders at the clinics where we collaborate.
It seems like a lot of current medical record systems are built more with the provider rather than the patient. Most include a way to document information, a tracking system, messaging, and a way to pay bills. Even my own primary care patient portal app is very limited in what I, as the patient, can see and do. 
SmartCare 360, MRG's revolutionary patient portal and virtual healthcare app, integrates with all EHR (electronic health records) and 250+ biometric devices. SmartCare 360 also has its own built-in all center. An answer to the patient's questions or concerns is just one quick call away from a professional. 
And if you don't have the time or mental energy to go to the gym or plan out nutritious meals, SmartCare 360 contains personalized diet and exercise plans as well. 
When it took off, we decided to take off with it, and present at local schools to teach the medical assistants and LPNs all about digital health and the virtual care movement. Soon, the state caught wind of what we were doing and were able to apply for grants that provided us with the funds to expand SmartCare 360 and create more jobs surrounding it. 
How SmartCare 360 Improves Patient Outcomes
1. SmartCare 360 is compatible with 250+ biometric devices that monitor a patient's vitals. This can be especially beneficial to a patient as 24/7 monitoring via SmartCare 360 can sometimes prevent an expensive hospital stay. As soon as a vital is out of its acceptable range, the app alerts the patient's doctor and team, and they are seen soon after through telemed if it's not an immediate emergency.
2. SmartCare 360 is able to provide a holistic approach to patient care. It can aid the patient throughout their entire journey, from tests and diagnostics to treatment to monitoring. It can also seamlessly collaborate with any disease-specific monitoring device but is all done on one patient portal. Most of the time each device has its own patient app. 
3. The app is designed, first and foremost, with the patient experience as the top priority. As I said before. SmartCare 360 is not for the providers - it is a tech tool that allows the patient to take back control of their health. 
4. SmartCare 360 contains direct information about different conditions and diseases. Patients won't have to search symptoms, conditions, or treatments on their own, which can often lead to misinformation. 
5. We provide a host of health and wellness information within the app. This way patients can easily bring it up with their doctors and integrate into their treatment plans, and on the provider's side, we are ensured that they are receiving accurate information, instead of again, playing Google doctor. 
Trends & Growth in Virtual Care
Physical care will never fully go away, but virtual care will continue to rise, as patients realize it's far more convenient to stay home and attend a virtual appointment if they can for their illness or condition and that having an app with all their health tools on it can't be beaten. 
Physical care will still be important but more people are using virtual care because it's easier and faster. You also have more control over how you take care of yourself because of virtual care.
The government is on board, too. They have supported us tremendously as SmartCare 360 has grown in the form of grants and upping reimbursement for telemedicine appointments. 
As far as clinics and hospitals implementing SmartCare 360 or any form of virtual care, I think it is important they ask themselves three vital questions: 
Do you have the money upfront to fund such a large transition? Adopting a virtual care solution costs thousands per patient. You also don't want the cost of it to trickle down to your patients - the transition should be to the benefit of the patient. 

Do you have the staff (qualified, quantity, etc.) to be able to help triage virtual care patients and situations that arise? If a vital sign is alarmingly out of range, someone who is qualified to speak and triage with the patient needs to be available. 

Are you going to charge patients a fee or bill at all for the integration of the app? Ultimately, how will you ensure your adoption of SmartCare 360 provides your organization with a decent ROI?
The Provider's Edge Podcast
My speaking journey started out several years ago locally in the hospital I was working at. I led our department CME conferences, and from that, began to be invited to other departments to speak within the hospital. From there, I was invited to speak on a state, national, and international level. I felt so honored that others benefited from my speaking and message. 
I spoke on so many others' stages, I knew that someday I wanted to present on a platform that was all my own. I knew I wanted my platform to be able to allow me to build business relationships and network with other healthcare professionals and celebrate medicine on an executive level. My main question was how I could serve my community on a larger level. We are now over 100 episodes in of The Provider's Edge Podcast. I love speaking with professionals who can lend their expertise when it comes to disrupting healthcare and reaching our peak performance both in our careers and personal lives. 
This is all a summary of my interview with Nina Joshi and HITLAB for their "Women's Health Tech Wednesdays" podcast series. HITLAB believes technology and health can work together to improve the quality of health delivery and healthcare worldwide. They use rigorous research and evidence-based methods to identify the best digital health solutions for each of our partners. I want to thank them again for this amazing opportunity to share with others through their platform. 
Subscribe 🔔 and listen 🔊 to this episode on The Provider's Edge Podcast now❗
🎧 SabrinaRunbeck.com/Apple-Podcast
We are here to support you, and help you elevate your success as a healthcare leader and business owner!
Want to grow your visibility so that your messages are heard by thousands of healthcare leaders and healthcare entrepreneurs like you so you can establish your credibility in the field? 
Click here to apply as a speaker for our show: 
Recommended Podcast Episodes
The Provider's Edge podcast is always looking to feature healthcare business owners and Health Tech Founders to highlight their work and their stories.
Together, we can encourage other practitioners to up level their practices.
If you or someone you know could be a good fit as a guest on the show,
please click on the bottom below to apply as a speaker.
Healthcare Entrepreneurs!
I can help you accelerate your social mission and increase profitability by gaining visibility and credibility in the right circle of influence.
By combing my expertise in hosting a highly-ranked podcast and speaking at various global healthcare conferences and TV channels, I found the best way to create long-lasting business growth in healthcare is through connecting with the right circle of influence.
I understood your visibility is your profitability!
My clients stop having to worry about where their next client is coming from, need to plan additional budget for ads spend, or lose the ability to connect with others because their social media account is shut down.
If you want to share your social mission with the world and gain endless supporters that become royal clients... then you have landed on the right page, with the right consultant who is also a recovered clinician.