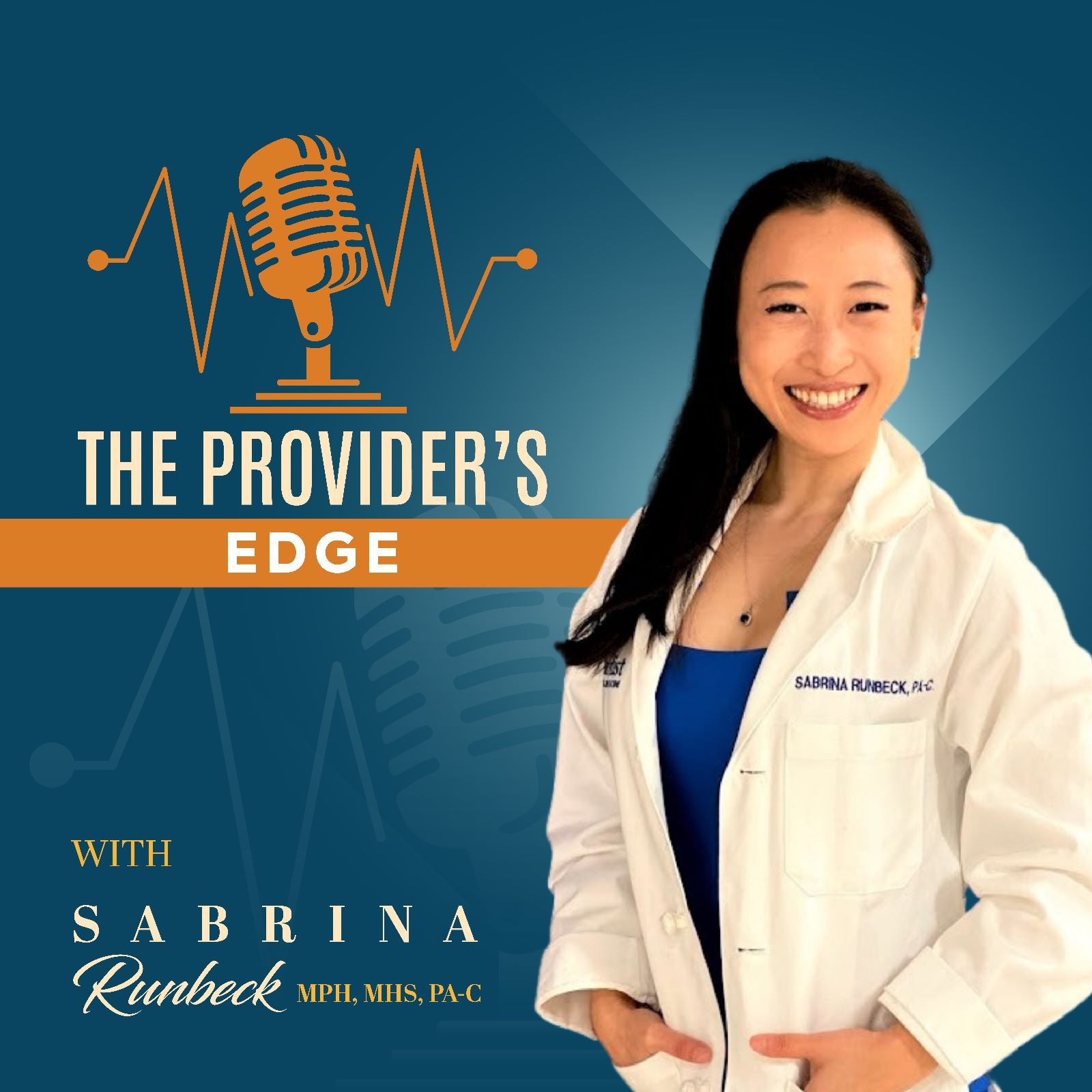 Biohacking for Optimal Performance
Are you ready to use Biohacking to Health for optimal well-being & prosperity? 
This week's episode on The Provider's Edge, with Nurse Practitioner & Biohacker Shanya Melissa Stockman, has all the answers you need. 
In this episode with Shanya Melissa Stockman, you will learn:
How to fight burnout by implementing modalities with biohacking and training your patients without using medication.

How biohacking can be used as an alternative to traditional medicine to attack the root causes of illnesses and help people heal without medications.

How healthcare professionals can leverage their income streams and create recurring income so they can see fewer patients while helping more patients.
Other Episodes You Will Enjoy:
🎧 "5 Best Tips To Harness The Power Of Metabolic Health Into Current Healthcare Practice" Click here to listen: https://sabrinarunbeck.com/10-5-best-tips-to-harness-the-power-of-metabolic-health-into-current-healthcare-practice-with-philip-ovadia-ep10/
🎧 "The Saboteur Within How to Stop Getting in Your Own Way" Click here to listen:
https://sabrinarunbeck.com/19-the-saboteur-within-how-to-stop-getting-in-your-own-way/
As a physician, you always want what is best for your patients; whether in terms of treatment, consultancy, aftercare, or any other step of their medical procedure. However, sometimes it can be challenging to get rid of the root cause of your patient's ailment. 
Doctors are highly trained to treat any immediate discomfort their patients are experiencing. But sometimes, it can be hard to pinpoint the root cause of their illness and it might even take a while to do the same. So, where does biohacking come in? 
While you are hard at work to figure out and provide your patients with the best possible treatment, you can recommend biohacking to them to get some relief in their day-to-day life and start their journey to recovery and normalcy. 
Biohacking is a type of self-help treatment method that involves people making dietary and lifestyle changes to support a healthy body and mind. Biohacking consists of usually small changes to support a specific outcome or outcomes. It can be anywhere from a weight loss journey to polishing your brain function. The possibilities with this method are endless. In this blog, we will cover some of the best advantages of biohacking and how it can help you as a physician. 
One of the biggest benefits of biohacking is that it targets the genes or the genetic ailment of the person concerned. This means that biohacking can be used in countless ways and can be customized to work for everyone differently. Patients can use biohacking to target their immediate ailments or to support a long-term lifestyle change and even achieve a long-term health goal.
2. It's great for mental health
Biohacking works through dopamine and serotonin production in the brain. These are the two hormones that mentally ill patients typically lack. Through specific diet and lifestyle changes, biohacking can increase the production of these two hormones triggering better mood, increased productivity, better stress management, and an overall healthy lifestyle.
While running tests and scheduling different appointments can be hefty on both your and your patients' pockets. Biohacking is significantly more cost-effective than spending thousands on tests and other medical equipment. Biohacking promotes long-term health and making your patients incorporate healthy changes is the more cost-effective choice.
If you want to know more about biohacking and how you can make your life easier as a healthcare professional, make sure to tune in to the Provider's Edge Podcast.
Subscribe 🔔 and listen 🔊to the entire discussion now❗ We are here to support you and help you elevate your success as a healthcare leader and practice owner.
Want to grow your visibility so that your messages are heard by thousands of healthcare leaders and HealthPartners like you so you can establish your authority in the field immediately?
Click here to apply as a speaker for our show: https://go.sabrinarunbeck.com/podcast-guest
Recommended Podcast Episodes
The Provider's Edge podcast is always looking to feature healthcare business owners and Health Tech Founders to highlight their work and their stories.
Together, we can encourage other practitioners to up level their practices.
If you or someone you know could be a good fit as a guest on the show,
please click on the bottom below to apply as a speaker.
Healthcare Entrepreneurs!
I can help you accelerate your social mission and increase profitability by gaining visibility and credibility in the right circle of influence.
By combing my expertise in hosting a highly-ranked podcast and speaking at various global healthcare conferences and TV channels, I found the best way to create long-lasting business growth in healthcare is through connecting with the right circle of influence.
I understood your visibility is your profitability!
My clients stop having to worry about where their next client is coming from, need to plan additional budget for ads spend, or lose the ability to connect with others because their social media account is shut down.
If you want to share your social mission with the world and gain endless supporters that become royal clients... then you have landed on the right page, with the right consultant who is also a recovered clinician.